Stock Food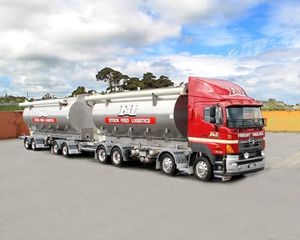 STOCK FOOD STORAGE
With approximately 17,000m2 of purpose-built bulk storage area, we are able to provide storage for the increasing volumes of bulk stock food entering the New Zealand market. Freight Haulage meets strict regulatory standards, including the Ministry of Primary Industries storage standards. The advanced systems and processes we have in place give us the ability to hold product for multiple clients on site at any given time.
HANDLING
With our modern up to date fleet of equipment, we have the ability to screen, roll and hammer mill product. On-site we have two loaders and one manitou to handle the incoming and outgoing volume of stock food. Equipment being fitted with Loadrite scales enables accurate and precise measuring and recording of product.
Freight Haulage Limited has the equipment and resources to be able to bag and palletise product to our clients' nutritional requirements.
Our onsite blending machine gives us the ability to blend products to the clients' needs, ensuring the correct nutritional value is met. Freight Haulage Limited will have your blend on site no later than 24 hours after receiving the order.
CARTAGE
Freight Haulage Limited has dedicated stock food auger trucks, as well as one blower truck. This enables the product to be carted from storage to silo.
WEIGHBRIDGE
Certified.
Available for public use at a cost.
Email:
orders@freighthaulage.co.nz